Easy Keto Chocolate Peanut Butter Mug Cake recipe, perfect for busy mornings and kids!
On busy mornings, mug cakes are my go-to breakfast recipes. They are so easy to make and only take a little over a minute to cook. The awesome thing about making a mug cake is that you can change them up every day, so you never get bored. If you find yourself getting a little sick of bacon and eggs every morning, keto mug cakes are the way to go.
Today's Keto Chocolate Peanut Butter Mug Cake is delicious and pairs well with your morning coffee. To mix it up try different nut butter. I made two versions of this cake, a dark chocolate, and milk chocolate version. I love dark chocolate, but my husband hates it. Sometimes I use different sugars for the two of us because he says Stevia leaves an aftertaste in his mouth (I disagree). For his recipes, I usually substitute Stevia for Erythritol, but I still use Stevia drops because he doesn't complain about those.
Keto Chocolate Peanut Butter Mug Cake: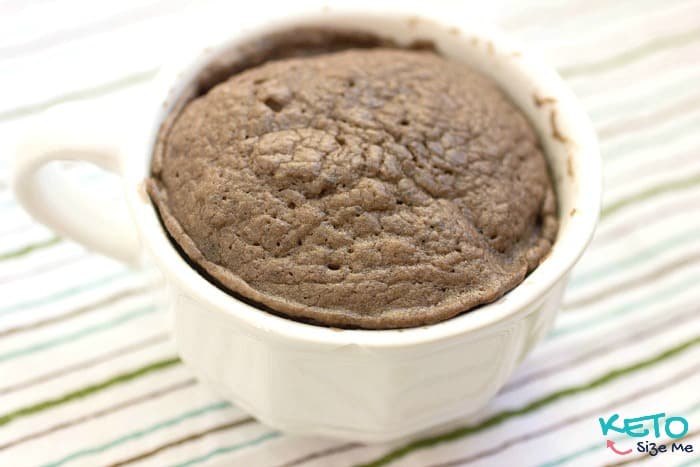 Keto Chocolate Peanut Butter Mug Cake: Ingredients
Keto Chocolate Peanut Butter Mug Cake: Directions
Mix all ingredients in a mug and cook for 60 - 70 seconds in the microwave.
Serve and enjoy!
Yield: 1 serving
Keto Chocolate Peanut Butter Mug Cake
When my kids started keto mug cake recipes were on the menu daily. Mug cakes are easy to make and everyone loves chocolate and peanut butter. It's like Reese's cereal for breakfast without the guilt or sugar high. These low carb sugar-free mug cakes are quick and easy to make so try one today.
Ingredients
2 Large Eggs
2 Tbsp Almond Flour
1 Tbsp Butter (melted)
1 Tbsp Peanut Butter
12 Drops Liquid Stevia or 2 Tbsp of of Erythritol or Xylitol
1 tsp Cocoa Powder (dark or milk chocolate)
1/2 tsp Vanilla Extract
1/4 tsp Baking Powder
Instructions
Mix all ingredients in a mug and cook for 60 - 70 seconds in the microwave.
Serve and enjoy!
Nutrition Information:
Yield:

1
Serving Size:

1 Serving
Amount Per Serving:
Calories:

444
Total Fat:

36g
Saturated Fat:

12g
Trans Fat:

1g
Unsaturated Fat:

20g
Cholesterol:

403mg
Sodium:

451mg
Net Carbohydrates:

3g
Fiber:

3g
Sugar:

2g
Protein:

20g
When you make these recipes in your home your nutrition facts will be different from mine. Please keep track of the products you use so you can get the best idea of what your actual nutrition facts are. I am not a doctor. Please talk to your doctor before starting any diet.
Want to see how easy it is to start your day with a Ketogenic Diet Mug Cake? Check out these simple steps.
Start with a whole egg
Add melted butter
Mix well
Add Almond Flour
Add Stevia and mix well. Not a fan of Stevia? You can also try Sverve. I've never used it but others say it's awesome.
Finally, add your Peanut Butter & baking powder and mix well. Pop in the microwave for 60-70 seconds
Enjoy!
Note: You can add nuts, no carb whipped cream, and any other add in's you would like. Don't forget to edit your nutrition information for any changes you make.
Nutrition Information for Keto Chocolate Peanut Butter Mug Cake:
This is for 1 serving
Calories: 423
Total Fat: 36g
Cholesterol: 402mg
Sodium: 953mg
Potassium: 168mg
Carbohydrates: 9g – 4g Fiber = 5 NET CARBS
Dietary Fiber 4g
Sugars: 2g
Protein: 20g
We strive to make all of our recipes according to our dietary standards. Our recipes have to meet the following criteria: Low Carb, High Fat, Moderate Protein, Sugar-Free (we only allow natural fruit, veggie, and dairy sugars in our diet,), and Gluten-Free. You can learn more about how we eat, and how to figure out the macronutrient amounts you need daily.