Today I'm sharing 29 of the best keto pumpkin recipes you'll ever need! These low carb pumpkin recipes will delight your tastebuds and help keep your carb count low!
I don't know about you, but I love the fall season.
By the end of summer, I am so tired of being hot and sweaty that I can't wait for a season change. Guess that's what I get for living in the southeast.
By the end of August, the weather starts to cool off; the air is crisp and fresh, and beautiful colors burst forth from the trees.
Fall signals pumpkin season and the unlimited use of pumpkin flavor in all your favorite dishes.
I love the savory and subtle sweetness that pumpkin-flavored dishes afford my palette, and today I am sharing the best keto pumpkin recipes on the internet!
These recipes come from some of my favorite low-carb and keto diet blogs, and if you've never heard of them, I hope you'll bookmark them today.
I'll share recipes that use almond flour and coconut flour because I know some of my readers are allergic to almonds.
We will start with my favorite category in the name of all things healthy, of course!
Keto Desserts:
When I think about my favorite keto recipes in this category, I immediately go to the classic holiday dessert every pumpkin lover has made at least once, and that's, of course, keto pumpkin pie (5 net carbs).
This recipe features an almond flour crust but offers both a coconut flour crust and a nut-free option. Top with homemade whipped cream, and you'll be ready to celebrate!
My first attempt at a keto pumpkin pie recipe quickly turned into a pumpkin cheesecake (3 net carbs), and no one in my family seemed to mind.
This pumpkin cheesecake recipe has been one of my family's favorites for a few years. This shows that not being prepared and having the necessary ingredients can lead to happy little mistakes!
We make this every holiday because even non-keto dieters enjoy its great taste.
If pies aren't your jam, you should try keto pumpkin bars! These low carb pumpkin bars feature maple cream cheese icing ( 3 net carbs) and look delightful!
Prefer something a little nutty? Try pumpkin bars topped with pecans (3 net carbs)!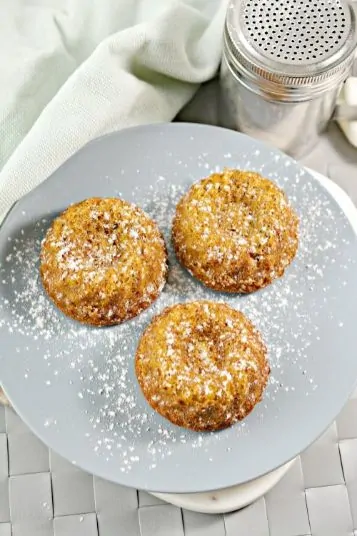 Pumpkin cake, you ask? Yes, adorable pumpkin spice mini bundt cakes (3 net carbs). This delicious recipe pairs perfectly with a keto pumpkin spice latte! Look for a few drink suggestions below.
If you're flying solo on this diet journey, a pumpkin mug cake is one of my easy keto pumpkin recipes you need to try today!
Not going to lie; this is the kind of cake I eat for breakfast!
Pumpkin Keto Friendly Ingredients:
Before we dive into more recipes, let's talk basics. When making these recipes, you must ensure you stock up on the right ingredients.
If you're like to start from scratch, you can make your own homemade pumpkin pie spice, pumpkin pie filling (check out the post shared above), and even homemade pumpkin puree.
You'll also need coconut milk (full-fat), vanilla extract (pure is the best), monk fruit sweetener, brown sugar sweetener, and the sugar-free sweetener of your choice. It never hurts to have heavy whipping cream on hand and, of my favorite, all silicone bakeware (personal preference, of course).
Pumpkin Fat Bombs: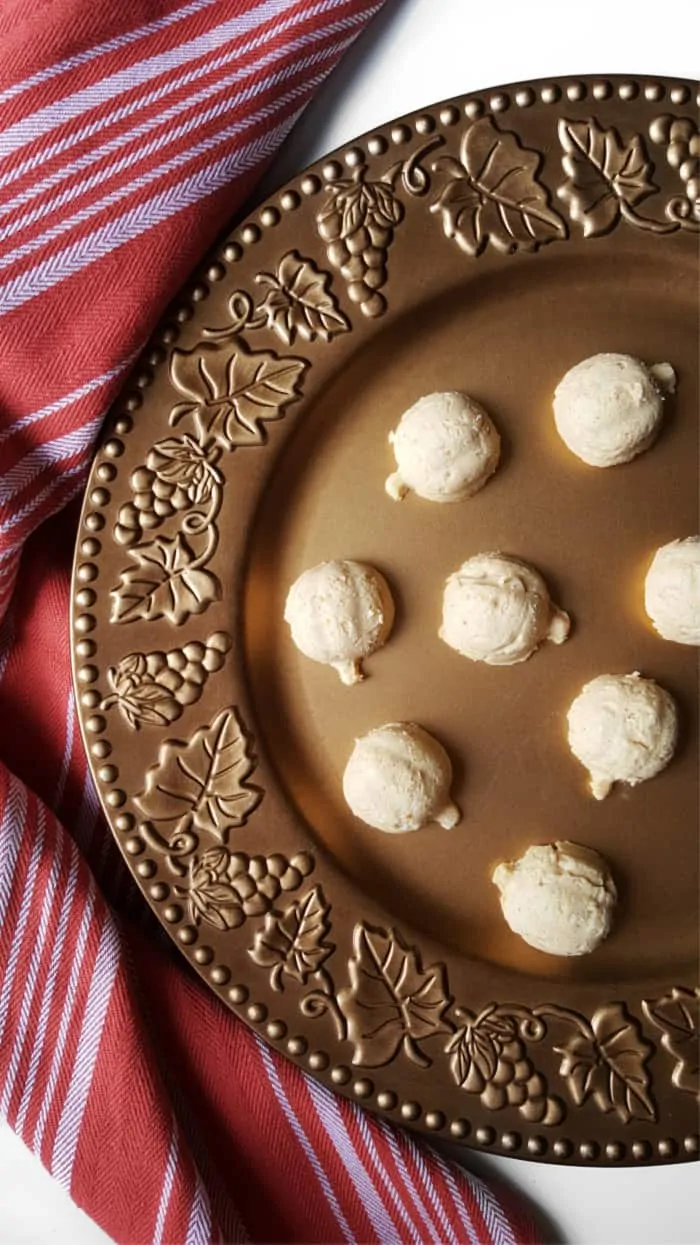 I mentioned my love of silicone, and now you can see why. These falldorable pumpkin pie fat bombs (1 net carb) are perfect for holiday parties!
Cute fat bombs taste better; you know that, right?
Sometimes I need a little more dark chocolate in my life (who doesn't?), and these pumpkin cheesecake truffles (4.96 net carbs) hit the spot!
Oh, my yum! Don't these chocolate keto truffles look amazing?
I don't know about you, but I'm getting hungry just looking at them. How are these keto?
Keto Pumpkin Cookies: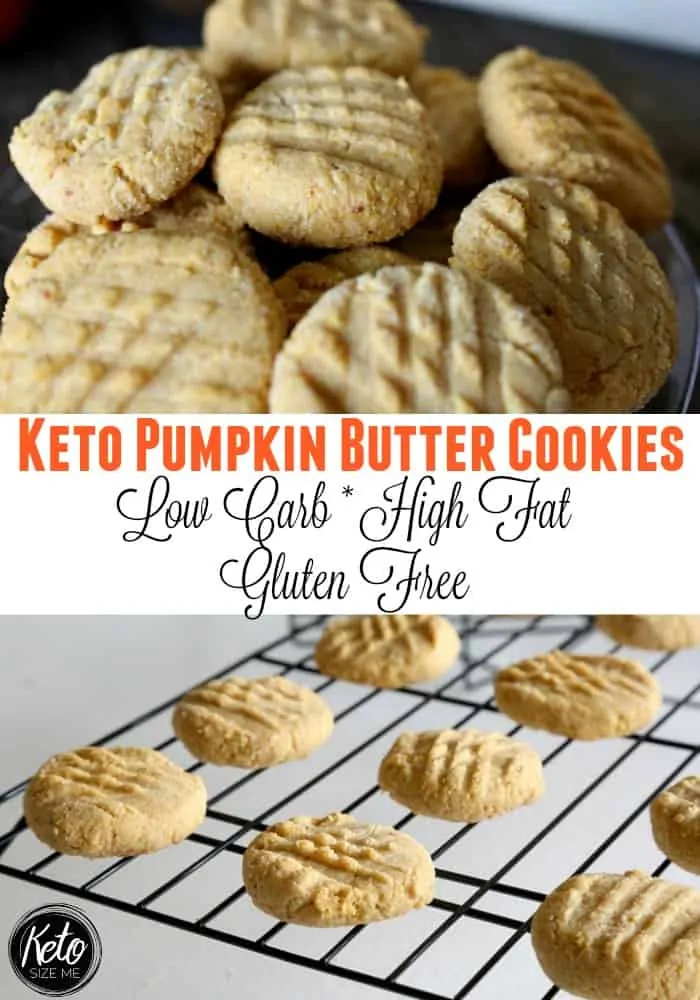 When my cinnamon butter cookies got shared over 200k times, I knew I had to make a pumpkin butter cookie (1 net carb) version, and they did not disappoint!
They've only been shared 90k times, and people seem to love them just as much. Some people don't like pumpkin flavors, but I don't know any!
After my first attempt, I decided to try something riskier for those spoon lickers. You know, the ones, the people who eat cookie dough! Yep, they inspired this pumpkin spice cookie dough recipe.
Okay, the "they" I'm referring to are my children! I made this one for them. If you're in a chocolate chip cookie mood, you can try pumpkin white chocolate chip cookies (3 net carbs)! Yum!
Low-Carb Muffins and Pumpkin Bread:
Do you know the muffin man? I do, and guess what? He said you should try these tasty pumpkin spice muffins (3 net carbs)!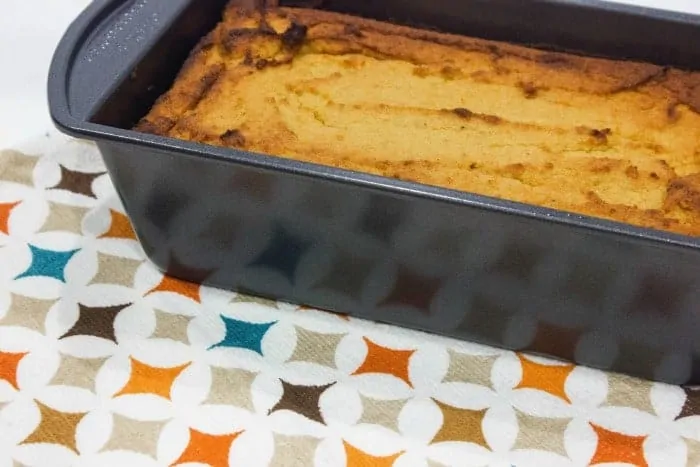 This keto pumpkin bread recipe started as a big fail, but thankfully, for my family and yours, I was able to find a fix and bring pumpkin bread back in a major way.
I'm bringing keto back; those other bloggers don't know how to act. Break out your loaf pan you can join the pack! – Please tell me if this makes sense to one of you!
Oops, I did it again! I played with this recipe, got lost in my kitchen. Oh, baby, baby.
I think I'm in love with cream cheese pumpkin bread (4 net carbs). Guess I'm not that innocent! 😉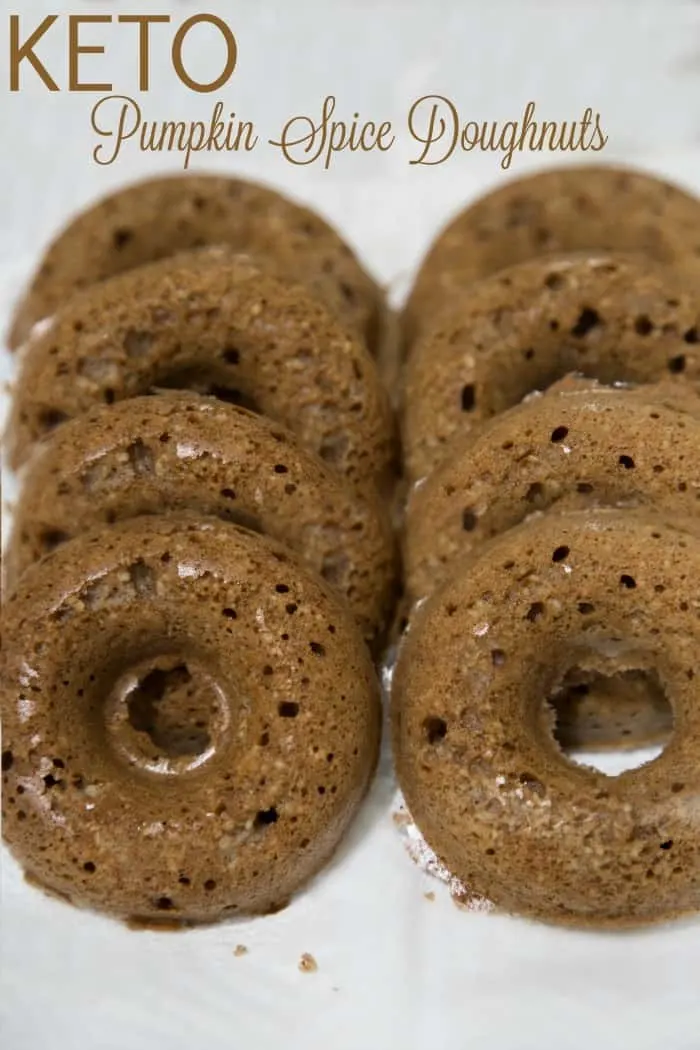 Okay, enough with the early 2000 jams. These pumpkin spice doughnuts (3 net carbs) are so easy to make the kids can prepare breakfast for a change!
Grab your donut pan and get those kiddos in the kitchen. You can also make your own keto cream cheese frosting for these. Talk about delicious.
Pumpkin Bagels (2.6 net carbs) are perfect because you can take them anywhere. Slap a little cream cheese on these bad boys, and you're ready to chow.
French toast is my absolute favorite breakfast treat! I had no idea I would enjoy keto french toast when I started this diet because it's not made with real bread, but I'm hooked!
Pumpkin spice french toast 6.8 (net carbs) is perfect for Thanksgiving or Christmas breakfast!
Best Of Pinterest Keto Pumpkin Recipes:
Keto Pumpkin Pie Spice Latte (2.1 net carbs)
Move over, Starbucks! There's a new place to get lattes in your kitchen. Why pay for an overpriced sugared-up drink when you can make a keto version at home?
I've given you so many sweet and delectable keto pumpkin recipes to feast on.
It wouldn't be right not to include a savory recipe as well. This keto pumpkin soup (7.3 net carbs) looks incredible.
What a healthy way to warm up a chilly night!
Keto Pumpkin Creme Brulee (1.5 net carbs)
Creme Brulee, Creme Brulee, where are all of my creme brulee lovers?
You must try this recipe and serve it at your next fancy dinner party. I promise your guests will have no idea its keto!
I adore light and fluffy desserts! This pumpkin mousse is one of my new fall favorites! Try this sugar-free pumpkin cheesecake mousse (2.7 net carbs) and see if you agree! Or try this pumpkin spice mousse tart; either way, you can't go wrong!
Pumpkin Roll w/Coffee Cream (3.07 net carbs). Cake rolls used to be my favorite way to celebrate Thanksgiving, but it has been a long time since I had one. I can't wait to try this recipe.
Pumpkin Spice Hot Buttered Coffee (3 net carbs)
Pumpkin Pie Chia Parfait (6 net carbs)
Chilled Pumpkin Pie Pudding (6 net carbs)
Pumpkin Scones (7 net carbs)
If you try any of these Keto Pumpkin Recipes for yourself, please come back and let me know which ones were your favorites!