This keto chili cheese dog casserole takes me back to the ball field!
Sometimes I miss the little things.
I practically grew up on the baseball field, which means I knew my way around the concession stand!
There are some things I don't miss and can't believe I loved, like Pixi Sticks, ugh!
One thing I did grow to love after years on the diamond was the all-American hot dog!
The hot dogs at my brother's games were okay, but they led me down a road of trying different hot dog toppings and famous hot dogs from around the country.
Did you know that almost every major city has some version of the hot dog they are famous for?
I may exaggerate a little, but I love some Chicago and New York-style hot dogs.
My go-to dog, the chili dog, inspires this dish.
I didn't make coleslaw for this one, but I plan to when I have more time. I have been so busy lately that just getting dinner on the table is a great accomplishment.
If you have the time and enjoy homemade coleslaw, go ahead and smother this dish in it.
Trust me; your taste buds will thank you.
This is also an excellent meal for introducing your family to a low-carb, high-fat lifestyle because everyone loves hot dogs!
Keto Chili Cheese Dog Casserole:
If you want to make your chili a little runnier, add 1/2 cup of water.
Note: I have been doing most of my shopping at Walmart lately, and the lowest-carb tomato products I have found are the Wild Oats organic brand, which I used for this recipe.
You may be able to find lower-carb options, so make sure you update your nutrition data to reflect the difference!
My family doesn't care for spices, so be sure to add more cumin and chili powder if you like it hot!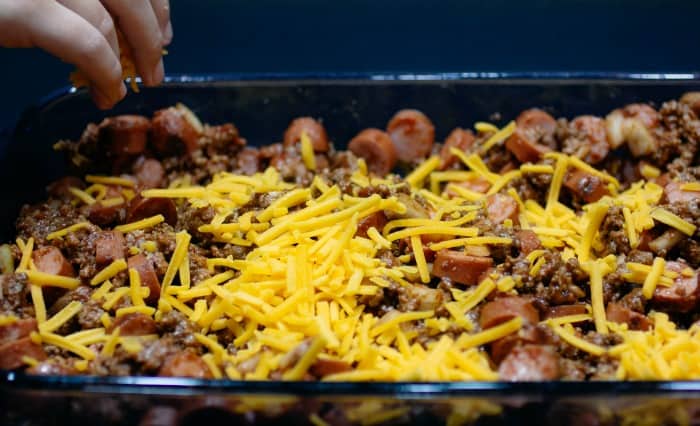 Want more fat?
Add more cheese!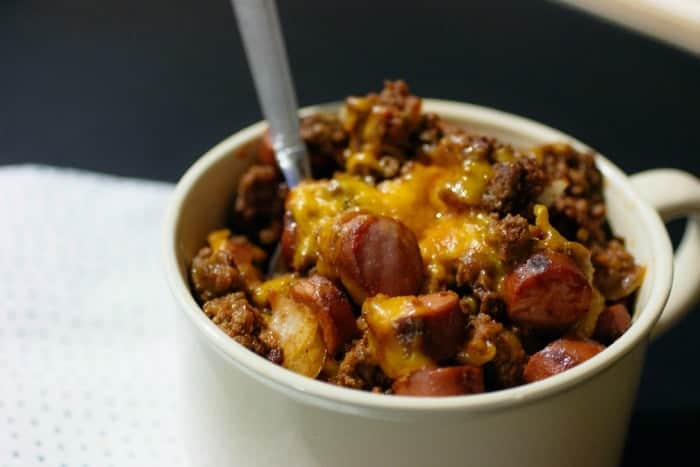 Don't forget to try this with coleslaw if you want the full ballpark experience!
Nutrition Information for Keto Chili Cheese Dog Casserole:
This is for 1 serving (makes 10)
Calories: 424
Total Fat: 34g
Cholesterol: 89mg
Sodium: 1097mg
Potassium: 292mg
Carbohydrates: 6g – 1g Fiber = 5 NET CARBS
Dietary Fiber 1g
Sugars: 4g
Protein: 24g
Yield: 10 Servings
Keto Chili Cheese Dog Casserole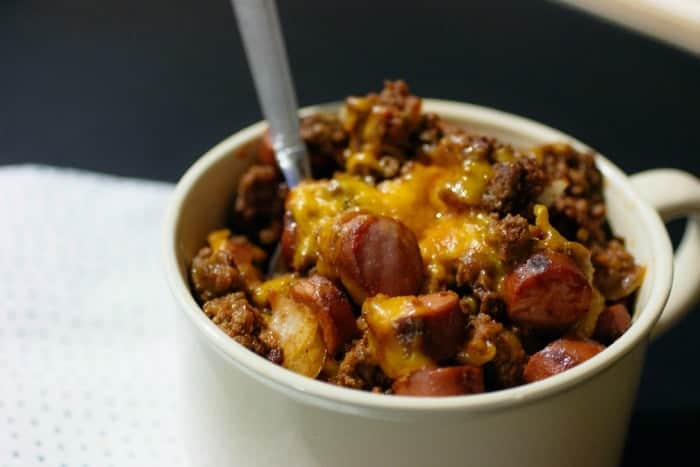 This recipe is a household favorite! The chili cheese dog without the bun is perfect for all seasons. This is one low carb recipe your kids will beg for.
Ingredients
2 lb Ground Beef
10 Hot Dogs
1 Cup Shredded Cheddar Cheese
1/2 Yellow Onion
1 Cup Low Carb Tomato Sauce
2 Tbsp Low Carb Tomato Paste
2 Tbsp Worcestershire Sauce
4 tsp Stevia (optional)
2 tsp Chili Powder
2 tsp Salt (divided)
1/2 tsp Ground Cumin
1/4 tsp Black Pepper
Instructions
Preheat oven to 400

Brown ground beef over med-high heat and add 1 tsp of salt to the meat while cooking.

Mix all spices in a small bowl along with tomato sauce and paste

Once ground beef is done, drain and set aside add hot dogs to the pan and lightly brown.

Remove hot dogs from heat and cut when cooled.

In a large bowl (or baking dish), mix ground beef, hot dogs, onion, and tomato mixture and mix until well combined.

Pour all ingredients into a 9X13 baking dish and top with cheese.

Bake for 20 minutes.
Nutrition Information:
Yield:
10
Serving Size:
1
Amount Per Serving:
Calories:

462
Total Fat:

34g
Saturated Fat:

14g
Trans Fat:

1g
Unsaturated Fat:

15g
Cholesterol:

120mg
Sodium:

1198mg
Net Carbohydrates:

3g
Fiber:

1g
Sugar:

3g
Protein:

33g