Keto chocolate chili may sound weird, but you are going to love it!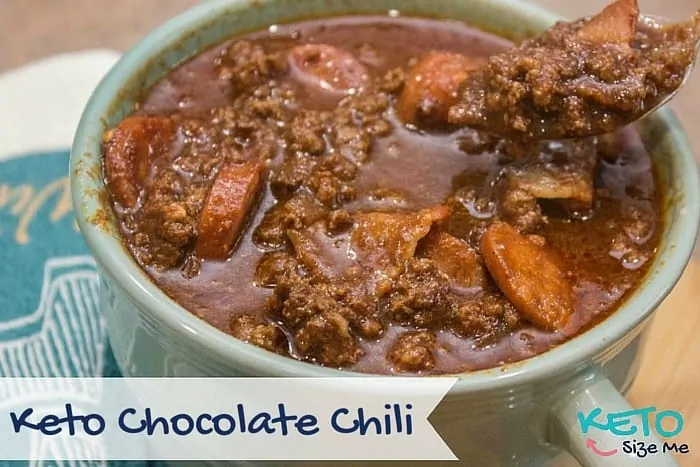 It's getting cooler every day, and that means I've started to break out my crock pot!
I love stews, soups, and chilis, and I am excited to share this recipe with you.
I have been working on nailing down a hearty chili recipe that everyone in my house loves, and this one was gotten rave reviews from everyone in my house.
This keto chocolate chili may seem difficult to make, but I promise it's a lot simpler than it seems.
Don't let a long list of ingredients scare you off.
I would also like to encourage you to get creative in the kitchen and try your own.
That's what I try to do daily.
Sometimes I fail big time, but if you start small and keep tasting throughout, you can't mess a meal up too badly. 😉
Keto Chocolate Chili:
Yield: 8 Servings
Keto Chocolate Chili
It doesn't have to be a cold night to enjoy this delicious ground beef chili recipe. Combining chili and kielbasa is a favorite of mine and the chocolate powder gives this chili a flavor profile worth sharing! Rich, slightly sweet, and mild is a great way to describe this south of the border experience.
Ingredients
2lbs Ground Beef
6 Sliced of Bacon
8oz Johnsonville Kielbasa
1/2 Large Onion
1 Cup Beef Broth
1 Cup Black Coffee
2 Cans Hunts Whole Tomatoes
2 Tbsp Worchestershire Sauce
2 Tbsp Butter
1 Tbsp Soy Sauce
1 Tbsp Chili Powder (2 if you like it HOT)
1 Tbsp Cocoa Powder
1 Tsp Cummin
1 Tsp Cayenne
2 Tsp Paprika
2 Tsp Garlic
Salt & Pepper (to taste)
10 Drops Liquid Stevia (optional)
Sour Cream & Cheddar Cheese (optional)
Instructions
Put both cans of tomatoes into a food processor and puree.
Place tomatoes in a crock pot on High.
Add all spices and liquid ingredients except garlic powder and butter to tomato sauce.
Add Stevia drops to crockpot mixture (optional)
Brown ground beef in a frying pan. Once beef is fully cooked drain and set aside.
While ground beef is cooking, chop the onion
Place onion and butter into a pan and cook until the onions are soft.
Add kielbasa and bacon to the pan with the onion. Cook until bacon is fully-cooked and onions are crispy.
Add ground beef to the bacon and sausage mixture and add garlic powder. Heat for 5 minutes.
Remove meat from the stove and add to tomato mixture.
Cook on High for 4 hours or add everything to a large pot and cook over medium-high heat for 45 minutes.
Nutrition Information:
Yield:
8
Serving Size:
1 cup
Amount Per Serving:
Calories:

508
Total Fat:

36g
Saturated Fat:

14g
Trans Fat:

1g
Unsaturated Fat:

18g
Cholesterol:

142mg
Sodium:

903mg
Carbohydrates:

8g
Net Carbohydrates:

5g
Fiber:

3g
Protein:

39g
Let's keep this simple!
Process your tomatoes (if you can find lower-carb tomatoes please use them.
This is what I had on hand)
Place your tomato sauce in a crock pot and kick it up to high!
Add all spices and liquid ingredients (except garlic powder and butter) to your tomato sauce.
Don't forget your coffee! Oh, I mean for the sauce mixture, but you can have one too!
You deserve it.
Brown your ground beef. I cooked mine in bacon grease for extra flavor!
While that's cooking, start choppin' up your kielbasa, onion, and bacon.
Once your ground beef is done, drain it and set it aside.
Add chopped ingredients and butter to a pan and cook until the onion is crispy.
Add ground beef back into the pan and add your garlic powder.
Let this cook for about 5 minutes.
Then add all ingredients to the crock pot with your tomato sauce mixture and cook on High for 4 hours
. You can also use a large pot.
Serve and enjoy!
You can also add cheddar cheese and sour cream if you wish. Just make sure you calculate the carbs for the amount you use.
Nutrition Information for Keto Chocolate Chili:
This is for 1 1/2 cup serving (makes 8)
Calories: 465
Total Fat: 30g
Cholesterol: 124mg
Sodium: 936mg
Potassium: 787mg
Carbohydrates: 9g – 4g Fiber = 5 NET CARBS
Dietary Fiber 4g
Sugars: 5g
Protein: 38g
* We strive to make all of our recipes according to our dietary standards. Our recipes have to meet the following criteria: Low Carb, High Fat, Moderate Protein, Sugar-Free (we only allow natural fruit, veggie, and dairy sugars in our diet, and very little stevia in the raw), and Gluten-Free. You can learn more about how we eat, and how to figure out the macronutrient amounts you need daily.