Today I'm sharing an easy keto casserole perfect for breakfast meal prep.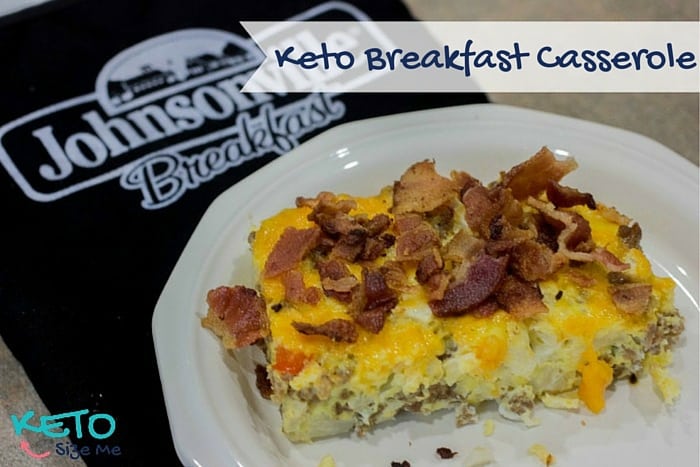 Keto eggs and bacon are delicious, don't get me wrong, but please, for the love of all things keto make sure you spice it up a bit from time to time!
One of my favorite foods (other than bacon) is Italian sausage.
My favorite brand… Johnsonville.
Sure, I may be biased because I used to work as a vendor for them, but I have tasted other brands, and Jville has never been beaten!
This keto casserole is simple, and it's what I would call mild.
I love everything spicy, but my husband (who just joined me on keto) doesn't, so I had to keep that in mind when making this dish.
You have probably tried other keto breakfast casseroles before, but I'm pretty sure you will freaking love this one.
Seriously, if you don't love it, I will pay for your meal.
Just kidding! If you don't like this recipe, we have different tastes, which is fine with me.
We can't all be the same now, can we?
The awesome thing about making a keto casserole is that you can take it to any function, and no one will ever know you're "on a diet" or bringing "diet food."
I don't care what anyone thinks about my lifestyle, but it's amazing how differently people judge your food when they think you're on some crazy diet.
Who knows, maybe you'll have people raving about your dish, and you'll get a chance to explain how your lifestyle allows you to eat like this EVERY. SINGLE. DAY!
Oh, and one more thing. If you're not a fan of cauliflower, try this recipe anyway.
My husband hated cauliflower and told me he wouldn't like it no matter how well I hid it or covered it.
He thought it was onions in this recipe. For serious! He had no clue until I told him.
Of course, he had to salvage his pride and say that he knew it was cauliflower and it tasted "okay," but he's not kidding anyone.
Keto Casserole Recipe:
Yield: 10 servings
Keto Casserole
Easy to make breakfast casserole with bacon, sausage, eggs, bell pepper, cauliflower, and cheese. This recipe is a family favorite and perfect for large crowds! Make-ahead for busy mornings.
Ingredients
11 Large Eggs
1/2 Cup Red Bell Pepper (chopped)
2 Cup Cauliflower (diced)
1lb Johnsonville Mild Sausage (cooked)
1lb Bacon (cooked and crumbled)
1 Cup Sharp Cheddar Shredded
1 Tsp Salt
1 Tsp Pepper
Instructions
Pre-heat oven to 350
Cook bacon and sausage (don't drain) and set aside
Place bell pepper, cauliflower, eggs, salt and pepper in a bowl and mix well.
Pour egg mixture into a 9 x 13 baking pan and add Italian sausage (mix together)
Top with cheddar and bake for 30-35 minutes
Remove from oven and add crumbled bacon to the top
Serve and Enjoy!
Recommended Products
As an Amazon Associate and member of other affiliate programs, I earn from qualifying purchases.
Nutrition Information:
Yield:

10
Serving Size:

1
Amount Per Serving:
Calories:

485
Total Fat:

38g
Saturated Fat:

14g
Trans Fat:

0g
Unsaturated Fat:

21g
Cholesterol:

288mg
Sodium:

1527mg
Carbohydrates:

4g
Net Carbohydrates:

2g
Fiber:

1g
Sugar:

2g
Protein:

31g
Nutrition Information for Keto Casserole:
This is for one serving
Calories: 354
Total Fat: 26g
Cholesterol: 259mg
Sodium: 1036mg
Potassium: 8mg
Carbohydrates: 3g – 1 Dietary Fiber = 2 NET CARB
Dietary Fiber 1g
Sugars: 2g (from natural sources)
Protein: 24g
To add even more spice to this recipe, you can add hot sauce, garlic, and any additional spices you like.
* We strive to make all recipes according to our dietary standards. Our recipes must meet the following criteria: Low Carb, High Fat, Moderate Protein, Sugar-Free (we only allow natural fruit, veggie, and dairy sugars in our diet, and very little stevia in the raw), and Gluten-Free. You can learn more about how we eat and how to figure out the macronutrient amounts you need daily.
What is your favorite keto casserole recipe?
We always look for new recipes to try and would love to hear what you're cooking up! You can always leave us a comment or email us if you have a recipe you think we should try.