Today I'm sharing Keto Bacon Wrapped Chicken Tenders, my first attempt at a kid-friendly keto recipe.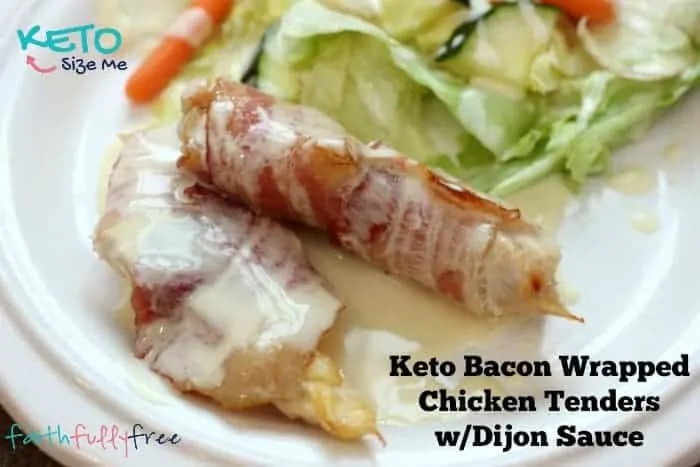 Week 4 was the beginning of something new for me. While I have been eating low-carb, gluten free, and sugar-free for a while, my family hasn't yet joined me on the journey.
That all changed last week. This left me scratching my head and considering how to make this new lifestyle appealing to my entire family.
I knew my biggest critic would be my husband. My husband consumes large amounts of sugar daily and loves to eat whatever he wants, whenever he wants.
He's also quite the skeptic about, well pretty much everything. My girls are 5 & 7, and they were thrilled. They couldn't wait to try new recipes and have "funner" lunch boxes.
As for the boys, well, they weren't sure what to expect. They were 12 & 10, and they didn't care as long as the food was good and they didn't have to go hungry. So that's what I was working with.
Keto Bacon Wrapped Chicken Tenders:
With that in mind, I decided to try to take family favorites and turn them into keto favorites, and that's why my first recipe was Keto Bacon Wrapped Chicken Tenders. I can't even fathom how many pounds of chicken tenders these kids have eaten over the past 12 years, but I knew this would be a good place to start.
The kids love my Filet Mignon with Dijon Sauce (also low-carb and keto-friendly), so I decided to use that for the chicken tenders instead of offering ranch dressing.
Keto Bacon Wrapped Chicken Tenders: Ingredients
1 Pack of Boneless Skinless Chicken Breast
1 Pack of Bacon
1/2 Cup Heavy Whipping Cream
3 Tbsp Butter
2 Tbsp Natural Dijon Mustard
Coconut Oil Spray
Keto Bacon Wrapped Chicken Tenders: Directions
Preheat oven to 400
Cut chicken into the desired tender size and wrap with bacon
Spray a 9 x 13 pan with coconut oil spray and place the chicken in the baking pan
Bake for 30 minutes or until the meat thermometer reads 160
While baking chicken, melt butter, then whisk in cream and cook for 1 minute
Stir in mustard, remove from heat, and stir in the remaining 2 Tbsp of butter
Yield: 14 Servings
Keto Bacon Wrapped Chicken Tenders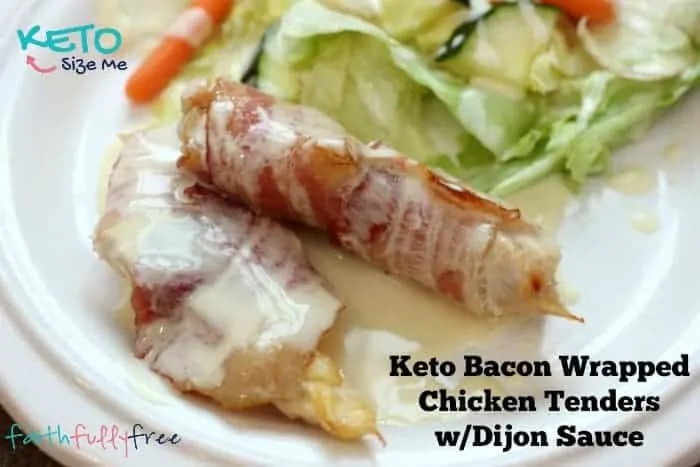 Easy keto chicken tenders recipes. Perfect for low carb families and keto kids.
Ingredients
1 Pack Boneless Skinless Chicken Breast
1 Pack Bacon
1/2 Cup Heavy Whipping Cream
3 Tbsp Butter
2 Tbsp Natural Dijon Mustard
Instructions
Preheat oven to 400
Cut chicken into desired tender size and wrap with bacon
Spray a 9 x 13 pan with Coconut spray and place chicken in the baking pan
Bake for 30 minutes or until meat thermometer reads 160
While baking chicken, melt butter the whisk in cream and cook for 1 minute
Stir in mustard remove from heat and stir in the remaining 2 Tbs of butter
Nutrition Information:
Yield:
14
Serving Size:
1
Amount Per Serving:
Calories:

70
Total Fat:

6g
Saturated Fat:

4g
Trans Fat:

0g
Unsaturated Fat:

2g
Cholesterol:

24mg
Sodium:

100mg
Carbohydrates:

0g
Fiber:

0g
Sugar:

0g
Protein:

3g
Keto Bacon Wrapped Chicken Tenders: Nutrition
Note: This is for one serving (2.8 oz of chicken tenders) w/3 Tbsp of Dijon Sauce
Calories: 514
Total Fat: 21g
Cholesterol: 215mg
Sodium: 779mg
Potassium: 607 mg
Carbohydrates: 0g
Dietary Fiber 0g
Sugars: 0g (all from natural sources)
Protein: 66g