Keto Pumpkin Pie Spice Doughnuts aren't just for Fall!
If you're already over the fall-themed desserts check out our full list of keto breakfast ideas here.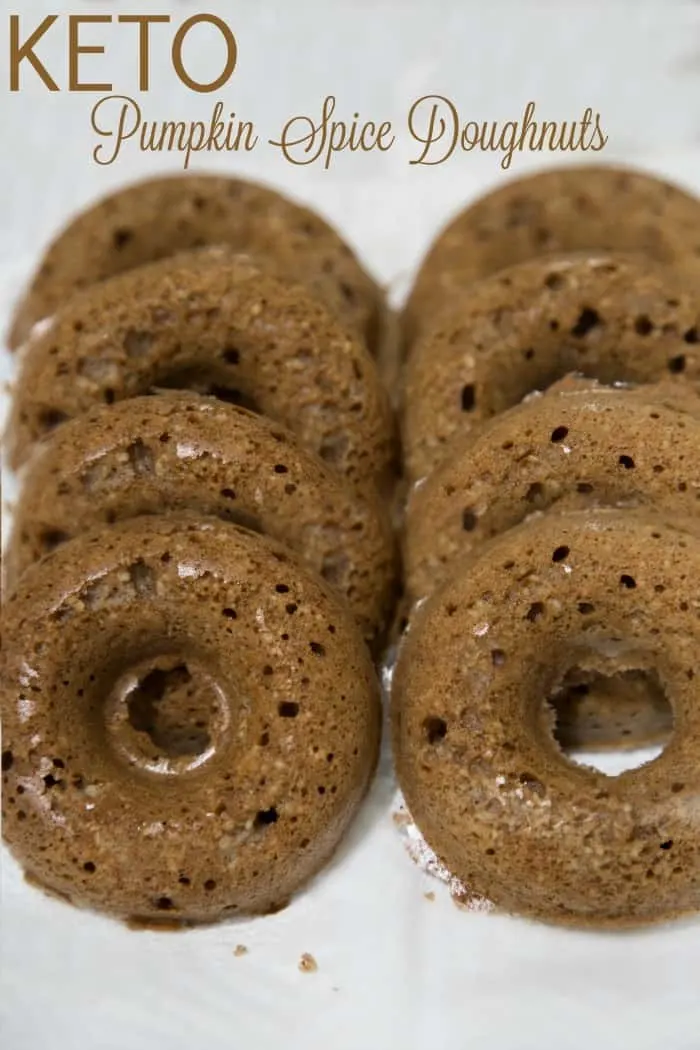 ~ This post contains affiliate links to help you find the products we use.

The past few weeks have been crazy busy around here.
We joined a gym a few weeks ago and we have been spending our nights teaching the boys how to lift.
That has been an incredibly rewarding experience and seeing my son's abs for the first time last night was both hilarious (because he wouldn't stop flexing) and a proud moment for me as a mom.
Since I didn't really have a meal plan set up last month we didn't get enough fat, but everyone still continued to lose weight.
My children still continue to say they are hungry all the time, but I think because they are growing, they have to eat more, but I'm positive they are keto-adapted.
I give them more snacks than I eat myself, and my youngest daughter is still on whole milk.
I am excited to see that their tastebuds are finally returning to their natural state, and they are enjoying the food much more now.
When we first started, they hated most of the baked goods I made and would say that they couldn't taste any sugar, and now they love almost everything.
The hardest thing for me is just making them eat.
They have learned that if they don't like something, they still have to eat it, which they do because they need to eat.
I'm not one to cook separate meals just because they don't "love" what is served, so it's a good lesson to learn.
The only food I've tried to cut back on is eggs.
After having so many eggs for breakfast myself, I understand how they can begin to taste and smell disgusting, so I do try to include lots of different breakfast options in my monthly meal plan.
My Keto Pumpkin Spice Doughnuts were a hit, and all of the kids agreed that next time I should turn them into bagels so we can eat them with cream cheese, and that sounds like a great idea.
If you don't own a doughnut pan or doughnut maker, you should consider getting one.
I found a cheap doughnut pan, but I had to search five different stores before I found it.
Keto Pumpkin Pie Spice Doughnuts:
Keto Pumpkin Pie Spice Doughnuts: Ingredients
1 Cup Almond Flour
2 Large Eggs
3 Tbsp Butter (melted)
2 Tbsp Pumpkin Pie Spice
2 Tbsp Erythritol
1 Tsp Vanilla
1/4 Tsp Cinnamon
1/4 Tsp Baking Soda
Pinch of Salt
Keto Pumpkin Pie Spice Doughnuts: Directions
Preheat oven to 350
Add all ingredients to a mixing bowl and mix on high until the dough is light and fluffy.
Spoon mix into a doughnut pan
Bake for 12-15 minutes until the toothpick comes out clean
Keto Pumpkin Pie Spice Doughnuts: Nutrition
This is for one serving (makes 6 servings)
Calories: 269
Total Fat: 17g
Cholesterol: 86mg
Sodium: 142mg
Potassium: 30mg
Carbohydrates: 5g – 2g Fiber = 3 Net Carbs
Dietary Fiber 2g
Sugars: 1g
Protein: 6g
* We strive to make all of our recipes according to our dietary standards. Our recipes have to meet the following criteria: Low Carb, High Fat, Moderate Protein, Sugar-Free (we only allow natural fruit, veggie, and dairy sugars in our diet, and very little stevia), and Gluten-Free.
Yield: 12 Donuts
Keto Pumpkin Pie Spice Doughnuts
Pumpkin spice donuts are sure to make fall mornings wonderful. Pair with a pumpkin spice coffee and top with cream cheese!
Ingredients
1 Cup Almond Flour
2 Large Eggs
3 Tbsp Butter
2 Tbsp Pumpkin Pie Spice
2 Tbsp Erythritol
1 Tsp Vanilla
1/4 Tsp Cinnamon
1/4 Tsp Baking Soda
Pinch of Salt
Instructions
Preheat oven to 350
Add all ingredients to a mixing bowl and mix on high until dough is light and fluffy
Spoon mix into a doughnut pan
Bake for 12-15 minutes until toothpick comes out clean
Nutrition Information:
Yield:
12
Serving Size:
1
Amount Per Serving:
Calories:

97
Total Fat:

8g
Saturated Fat:

2g
Trans Fat:

0g
Unsaturated Fat:

5g
Cholesterol:

39mg
Sodium:

74mg
Carbohydrates:

2g
Net Carbohydrates:

1g
Fiber:

1g
Protein:

3g