Keto Egg Nog is one of the first drink recipes I knew I had to figure out when I started this diet. I would never have imagined that one day I would be able to buy it in the grocery store! Of course, egg nog is usually pretty hard to find when you want it, so keep this recipe on hand when the stores run out. You can also try out our keto hot cocoa if you're in the mood!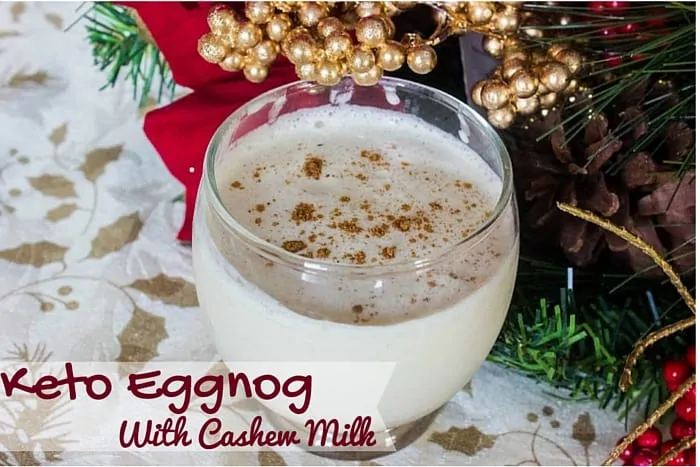 Okay, okay so before you start sending me emails about the spelling of Eggnog, I know how to spell it!;) I am planning to add quite a few eggnog recipes to the blog this month, so I have to get creative and figure out ways to give each a short and sweet title. So if it's okay, we are going to call this one Keto Egg Nog with a space between the egg and the nog! 😉
Today's eggnog recipe is made with cashew milk. Cashew milk isn't something we tend to use around here as much as almond or coconut milk but it does have a unique taste so I figured I would give it a shot. Something I have noticed is that cashew milk seems to separate more than any of the other nut milks. You know what that means right? There needs to be a whole lotta shakin' going on.
I always recommend letting your eggnog sit in the fridge overnight. This helps the flavor from the spices to seep into the liquid ingredients. It also seems to get sweeter the longer it sits in the refrigerator. This eggnog recipe is great because it's low in calories and protein. If you need a fat shot, this eggnog recipe is perfect for you.
You'll notice that I tend to use my Kitchen Aid mixer for almost everything. I just prefer it, but you can always use a blender as well. The only time I try to avoid using a blender or food processor is when I'm working with fruit.
Keto Egg Nog:
Yield: 8 cups
Keto Egg Nog
We've been busy testing and today we made a cashew milk eggnog. Getting the mix just right is hard but we always share recipes when we feel we've gotten close to the original. Heavy whipping cream, cashew milk, nutmeg, vanilla, and cinnamon flavor this eggnog substitute in a way we hope you love.
Total Time
12 hours
15 minutes
Ingredients
6 Large Eggs
4 Cups Cashew Milk
2 Cups Heavy Whipping Cream
1/2 Cup Stevia
1/2 tsp Nutmeg
1/2 tsp All Spice
1/2 tsp Cinnamon
1/2 tsp Pumpkin Spice
1/2 tsp Vanilla (optional)
Instructions
Add all ingredients to a mixing bowl and mix on medium for 10-15 minutes.
Refrigerate overnight before serving
Nutrition Information:
Yield:
16
Serving Size:
1/2 cup
Amount Per Serving:
Calories:

143
Total Fat:

13g
Saturated Fat:

8g
Trans Fat:

0g
Unsaturated Fat:

5g
Cholesterol:

103mg
Sodium:

35mg
Carbohydrates:

7g
Net Carbohydrates:

7g
Fiber:

0g
Sugar:

0g
Protein:

3g
Nutrition Information for Keto Egg Nog:
This is for 1/2 cup of Egg Nog:
Calories: 137
Total Fat: 13g
Cholesterol: 119mg
Sodium: 58mg
Potassium: 56mg
Carbohydrates: 2g
Dietary Fiber 0g
Sugars: 0g
Protein: 2g