Keto coconut pecan cookies are a must-bake for the pecan lover in your life.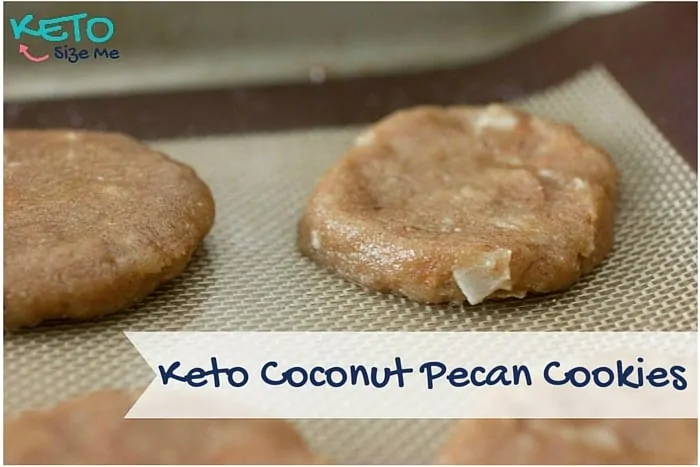 Of all the cookies I baked, these were probably my husband's favorite.
I would have preferred them with Stevia because I don't care for the "cold" feeling that Erythritol leaves on my tongue.
It's almost a mint sensation without the flavor.
To me, Stevia has no aftertaste, and it has always been my favorite sweetener.
Some of my friends complain about the taste, and my husband HATES it, but I don't understand it.
When it comes to using a sweetener in anything I make, I usually end up making two batches.
One for my husband and one for myself. I know there are a few other things we can try, but at this point, we've only baked with the two we already know we like.
I purchased some Monk Fruit In TheRaw but haven't had the time to research it or taste it.
I'll let you know what we think of it and if it makes an excellent replacement sugar as soon as we settle down enough to check it out.
Like all of the recipes I share, feel free to use the ingredients you like best and make them your own.
Keto Coconut Pecan Cookies:
Nutrition Information for Keto Coconut Pecan Cookies:
Yield: 12 servings
Keto PB Coconut Pecan Cookies
Easy and delightful peanut butter cookies. Low carb cookies are great for all occasions and store well for cookie exchanges.
Ingredients
1/2 Cup All Natural Peanut Butter
1/2 C Almond Flour
1/2 Cup Coconut Flakes
1/4 Cup Crushed Pecans
1/4 Cup Coconut Flour
2 Tbsp Coconut Oil
2 Large Eggs
1/4 Cup Erythritol (or Stevia)
1/2 tsp Vanilla Extract
1/4 tsp Cinnamon
Instructions
Preheat oven to 350
Mix all ingredients in a mixing bowl until dough is formed
Form 12 cookies on a baking sheet and bake for 20 minutes
Nutrition Information:
Yield:
12
Serving Size:
1 cookie
Amount Per Serving:
Calories:

172
Total Fat:

14g
Saturated Fat:

5g
Trans Fat:

0g
Unsaturated Fat:

8g
Cholesterol:

31mg
Sodium:

66mg
Net Carbohydrates:

3g
Fiber:

2g
Sugar:

3g
Protein:

6g
This is for 1 serving
Calories: 176
Total Fat: 14g
Cholesterol: 35mg
Sodium: 24mg
Potassium: 33mg
Carbohydrates: 7g – 3g Fiber = 4 NET CARBS
Dietary Fiber 3g
Sugars: 2g
Protein: 5g
* We strive to make all of our recipes according to our dietary standards. Our recipes have to meet the following criteria: Low Carb, High Fat, Moderate Protein, Sugar-Free (we only allow natural fruit, veggie, and dairy sugars in our diet, and very little stevia in the raw), and Gluten-Free. You can learn more about how we eat, and how to figure out the macronutrient amounts you need daily.
See all of our Low Carb Cookies here.