This Keto Buffalo Ranch Chicken Soup is one of my all-time favorites.
We have this soup at least once a month because my kids beg for it.

Oh my, just when I thought this keto lifestyle couldn't get any better!
My family started living the keto lifestyle on Sunday, and I was worried.
Tonight I was told that this recipe was "better than chicken noodle soup," "better than my favorite soup (tomato)," "who knew diet food could taste so good," and the "best thing you've ever cooked."
Needless to say, I'm on cloud nine right now, and my husband hasn't even gotten home yet.
I am pretty sure he will agree with the kids.
UPDATE: My kids now have a new favorite Keto Cheesy Shrimp Soup
Before keto, I never thought of myself as a soup fan, but I'm learning to love it.
Low-Carb Buffalo Ranch Chicken Soup Recipe:
Note: I use very little Franks because my family doesn't like hot and spicy foods.
When I dish my soup, I add more hot sauce to my liking.
You can always take any recipe you find here and change it to your liking. I would love it if you try something and loved it to let me know.
You can drop me a comment or shoot me an email.
If you make something better, I want to taste it!
Bonus Tip: If you feel like prepping the night before, you can always go ahead and fry up the chicken and add all of your ingredients in the crock pot the next day for a delicious meal you can set and forget. I would cook on low for 4 hours.
Enjoy!
Keto Buffalo Ranch Chicken Soup Ingredients:
4 cups Boneless Skinless Chicken Breast
2 Tbsp Hot Sauce (I added more to mine but made it very mild for the family)
4 Tbsp Ranch Dressing
2 Celery Stalks (chopped or sliced)
4 cups Yellow Onion (chopped)
6 Tbsp Butter (salted)
8 oz Cream Cheese
1 cup Heavy Whipping Cream
8 cups Chicken Broth
7 slices of Hearty Bacon
How To Make Keto Buffalo Ranch Chicken Soup:
Cook and shred chicken. My favorite way to do this is to coat the bottom of a deep frying pan with olive oil on med heat.
Place chicken in the pan and cook for 5 minutes. Then flip and add 3/4 cup of water.
Cover and cook for 7-10 minutes (adding 1/4 c of water every 2-3 minutes).
Test chicken with a thermometer and shred after cooling. (You can also boil the chicken if you'd like)

Cook and crumble bacon. I always precook bacon to make cooking a little easier.

While chicken and bacon are cooking, add all ingredients to a saucepan and cook on medium. Don't boil.
When chicken and bacon are done, add to the saucepan and cover.
Allow cooking for 5-10 minutes before serving.
Top with parsley (optional)
Yield: 10 Servings
Keto Buffalo Ranch Chicken Soup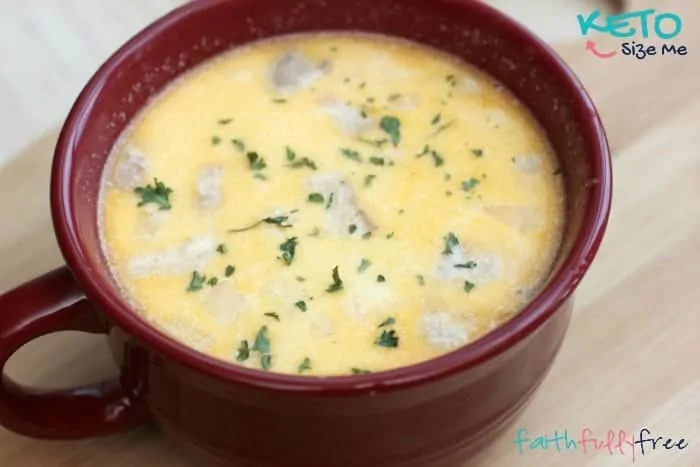 Most popular low carb soup I've ever made. Teachers love this one so take it to school and show the teachers how much you care.
Additional Time
5 minutes
Ingredients
4 cups Boneless Skinless Chicken Breast
2 Tbsp (I added more to mine, but made it very mild for the family)
4 Tbsp Ranch Dressing
2 Celery Stalks (chopped of sliced)
1/4 cup Yellow Onion (chopped)
6 Tbsp Butter (salted)
8 oz Cream Cheese
1 cup Heavy Whipping Cream
8 cups Chicken Broth
7 slices of Hearty Bacon
Instructions
Cook and shred chicken. My favorite way to do this is to coat the bottom of a deep frying pan with olive oil on med heat. Place chicken in pan and cook for 5 minutes. Then flip and add 3/4 cup of water. Cover and cook for 7-10 minutes (adding 1/4 c of water every 2-3 minutes). Test chicken with a thermometer and shred after cooling.
Cook and crumble bacon. I always precook bacon to make cooking a little easier.
While chicken and bacon are cooking add all ingredients to a saucepan and cook on medium. Don't boil.
When chicken and bacon are done add to the sauce pan and cover. Allow to cook for 5-10 minutes before serving .
Top with parsley (optional)
Nutrition Information:
Yield:
10
Serving Size:
1
Amount Per Serving:
Calories:

393
Total Fat:

31g
Saturated Fat:

16g
Trans Fat:

1g
Unsaturated Fat:

12g
Cholesterol:

129mg
Sodium:

1110mg
Net Carbohydrates:

3g
Fiber:

0g
Protein:

24g
Nutrition Information for Low Carb Buffalo Ranch Chicken Soup:
This is for 1 serving (1 cup)
Calories: 444
Total Fat: 34g
Cholesterol: 133mg
Sodium: 1572mg
Potassium: 3mg
Carbohydrates: 4g Dietary Fiber = 1g Net Carbs= 3g
Dietary Fiber 1g
Sugars: 2g (all from natural sources)
Protein: 28g