Keto seasonings & condiments just make life better! This list includes our favorite seasonings, spices, liquids, and cooking oils.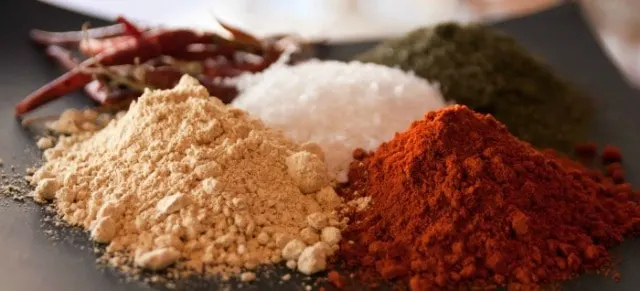 I have tried to add everything I can think of to this list, but I am sure I will miss some things. Please feel free to email me or add a comment if you notice that I missed something on this list.
After reading the lists above, you are probably wondering what you can do with all of those foods. This list will help you season, sweeten, and flavor your meals.
Drinks / Liquids:
Coconut Milk (check carb counts, canned seems to be lower in carbs)
Cashew Milk
Almond Milk
Coffee (w/heavy cream)
Unsweetened Tea
Protein Shakes
Sometimes (on occasion) you can splurge and enjoy low carb cocktails like this one.
Salad Dressings:
Look for low carb, full-fat options. Try to go organic if possible, and avoid preservatives.
Blue Cheese
Ranch
Italian
Lemon Juice
Lime Juice
Salsa (again read labels)
Keto Sweeteners:
Liquid Stevia
Powdered Stevia
Erythritol Natural Sweetener
Xylitol
Monkfruit
Sverve
Splenda (Some people like it, some don't. You do you boo)
Fats and Oils:
Bernaise Sauce
Butter
Bacon Fat
Coconut Oil
Duck Fat
Ghee
Hollandaise Sauce
Mayonnaise
Olive Oil
Peanut Oil
Sesame Oil
Sunflower Oil
Spices And Condiments:
Always watch for MSGs and try to stick to natural spices!
Real Bacon Bits
All Spice
Cajun Spice
Capers
Chili Powder
Cinnamon
Cream of Tartar
Cummin
Dill
Garlic Powder
Garlic Salt
Horseradish
Hot Sauce
Onion Powder
Oregano
Paprika
Parsley
Pumpkin Spice
Salt
Turmeric
Pepper (does have carbs)
Soy Sauce
Vinegar
Worcestershire Sauce
Yellow and Brown Mustard
Sugar-Free Ketchup
Sugar-Free Syrup
Flavor God is my Number 1 choice when it comes to spices! They are free of sugar, GMO's, MSG, and Carbs! You can shop Flavor God Seasoning here.
Delicious South Carolina BBQ Sauce
Cooking & Baking:
Coconut Flour
Coconut Flakes
Almond Flour
Flax Meal
Flax Seeds
Chia Seeds
Cocoa Powder
Grab a printable keto diet shopping list here.