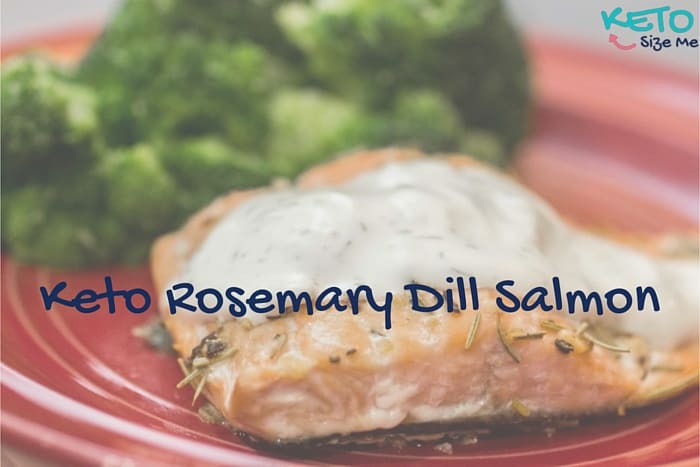 My family loves salmon, and I love making keto meals my entire family will eat. My family has not converted to keto yet, so I am still making two meals a night, anything to make less work for me is a good thing! I usually save meals for this for days when my fat content before dinner has been really low, or when I am planning to have some a keto dessert or fat bombs.
The most important part of the keto lifestyle is making sure you meet your daily fat requirements. If you don't, you will not lose weight. So please make sure you are getting plenty of fat when you plan to have a recipe like this that is relatively low in fat.
Another way you can add more fat to dinner with a recipe like this is by frying up some veggies (and as I mentioned earlier adding a dessert or fat bombs to the menu).
If you're looking at this recipe and shaking your head, I can tell you, sometimes it pays to play around with your spices. I wasn't sure how rosemary garlic and dill sauce would pair, but it was a match made in heaven! My kids complimented the recipe repeatedly and my soon to be teen said it was probably even better because he was dreading it, but it was surprisingly good! Only a pre-teen can both complement and criticize you in the same sentence. Am I right? But, I will take a compliment anywhere I can get one so pleasing all four kids was enough to make me overlook the other comment. Apparently he's going through an "I don't like seafood" phase. Whatcha' gonna do?
Keto Rosemary Dill Salmon Recipe:
Yield: 6 servings
Keto Rosemary Dill Salmon
Add healthy omega 3 fats to your diet with this quick and easy low carb salmon recipe.
Ingredients
For Salmon
6 4oz, Wild Salmon Filet
3 tsp, Rosemary Garlic Seasoning (1/4 tsp per side)
For Dill Sauce
1/3 Cup, Sour cream
1/3 Tbsp, Mayonnaise
1/4 tsp, Dill Weed
1/4 tsp, Garlic Powder
1/4 tsp, Onion Powder
Instructions
For Salmon
Preheat oven to 350
Place salmon filets on a baking sheet
Lightly rub 1/4 tsp of rosemary garlic seasoning on the skin side
Flip salmon and spread 1/4 tsp of rosemary garlic on the other side
Cook skin side down
Bake fish for 20 minutes
For Dill Sauce
Mix all ingredients together until well combined
Serve on warm salmon
Nutrition Information:
Yield:

6
Serving Size:

1 4oz filet
Amount Per Serving:
Calories:

267
Total Fat:

17g
Saturated Fat:

4g
Trans Fat:

0g
Unsaturated Fat:

11g
Cholesterol:

79mg
Sodium:

142mg
Carbohydrates:

1g
Net Carbohydrates:

1g
Fiber:

0g
Sugar:

0g
Protein:

25g
When you make these recipes in your home your nutrition facts will be different from mine. Please keep track of the products you use so you can get the best idea of what your actual nutrition facts are. I am not a doctor. Please talk to your doctor before starting any diet.
Make sure you rub both sides but go easy on the spices on the skin side if you don't care for rosemary.
This dill sauce is super easy to make and would probably pair well with other meats so keep this in mind when you grill your pork chops and chicken!
Nutrition Information for Keto Rosemary Dill Salmon:
This is for 1 serving
Calories: 133
Total Fat: 4g
Cholesterol: 46mg
Sodium: 382mg
Potassium: 391mg
Carbohydrates: 1g – 1g Fiber = 0 NET CARBS
Dietary Fiber 1g
Sugars: 0g
Protein: 21g
* We strive to make all of our recipes according to our dietary standards. Our recipes have to meet the following criteria: Low Carb, High Fat, Moderate Protein, Sugar-Free (we only allow natural fruit, veggie, and dairy sugars in our diet, and very little stevia in the raw), and Gluten-Free. You can learn more about how we eat, and how to figure out the macronutrient amounts you need daily.
View all of our Ketogenic Diet Recipes here.