I can't take credit for this recipe because it was my mom who introduced me to this delicious Keto Portobello Crust Pizza!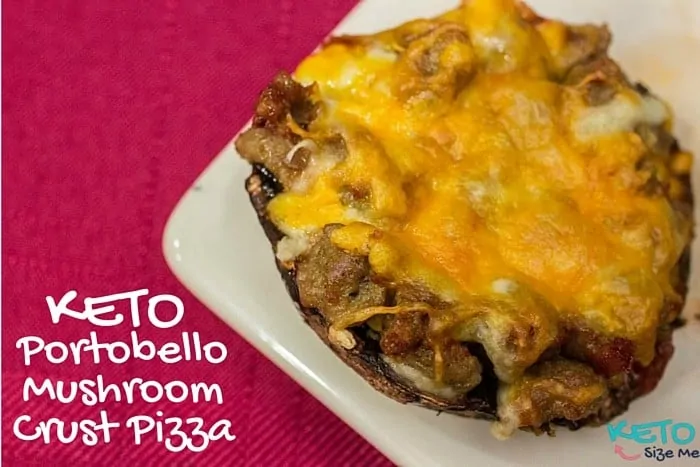 I do not like mushrooms!
I can tolerate them on pizza, but I would have never imagined myself eating an entire Portobello mushroom cap, but that's exactly what I did, and I LOVED it!
Thanks, mom.
We are visiting my family this weekend for an early Thanksgiving (I have a niece due around Thanksgiving), and my mom made these for lunch today.
When she first told me what she was making, I figured I wouldn't like this pizza recipe.
Thankfully, I decided to go ahead and blog the recipe because I know we don't all have the same tastes.
I was so shocked that I even liked these, let alone loved them enough to add them to my "must make again" recipe box.
I have tried other keto pizza recipes, but none have been worth blogging about.
This one is different. I beg you to try this even if you don't like mushrooms.
Keto Portobello Mushroom Crust Pizza:
This recipe is so easy a child could make it!
All you need to do is preheat your oven to 350. Cook your sausage (any kind you like)
Grab your Portobello mushroom caps.
Wash them and cut off the stems.
Place them on a baking sheet. Make sure your baking sheet has a lip.
The mushrooms will drain, and you don't want mushroom juice in the bottom of your stove.
Once you have your keto pizza crusts on the pan, get your other ingredients ready.
Add one tablespoon of low-carb marinara to each mushroom cap.
Then add two tablespoons of sausage (choose your favorite)
Top your pizzas with cheese.
Place your pizzas in the oven and bake for 12-15 minutes.
Serve and enjoy!
Note: You can mix this recipe up any way you want. Just make sure you count your nutrition info for any changes you make.
Yield: 2 Pizzas
Keto Portobello Mushroom Crust Pizza
Low carb pizza is all the rage these days. You don't need cauliflower or funky non-flours to make this recipe. Portobello mushrooms are a great way to indulge in your pizza cravings without the guilt.
Ingredients
2 Large Portobello Mushroom Caps
4 Tbsp Sausage
2 Tbsp Low Carb Marinara
4 Tbsp Colby Jack Shredded Cheese
Instructions
Preheat the oven to 350
Cook sausage
Rinse mushrooms and wipe away any dirt
Using a knife remove the stem
Place mushrooms on a baking sheet and add half of the marinara, sausage, and cheese to each.
Bake for 12-15 minutes (until cheese is golden)
Nutrition Information:
Yield:
2
Serving Size:
1 Pizza
Amount Per Serving:
Calories:

165
Total Fat:

13g
Saturated Fat:

5g
Trans Fat:

0g
Unsaturated Fat:

6g
Cholesterol:

31mg
Sodium:

397mg
Carbohydrates:

4g
Net Carbohydrates:

3g
Fiber:

1g
Sugar:

2g
Protein:

9g
Nutrition Information for Keto Portobello Mushroom Crust Pizza:
This is for 1 serving (2 pizzas)
Calories: 444
Total Fat: 35g
Cholesterol: 112mg
Sodium: 885mg
Potassium: 437mg
Carbohydrates: 5g – 1g Fiber = 4 NET CARBS
Dietary Fiber 1g
Sugars: 2g
Protein: 27g