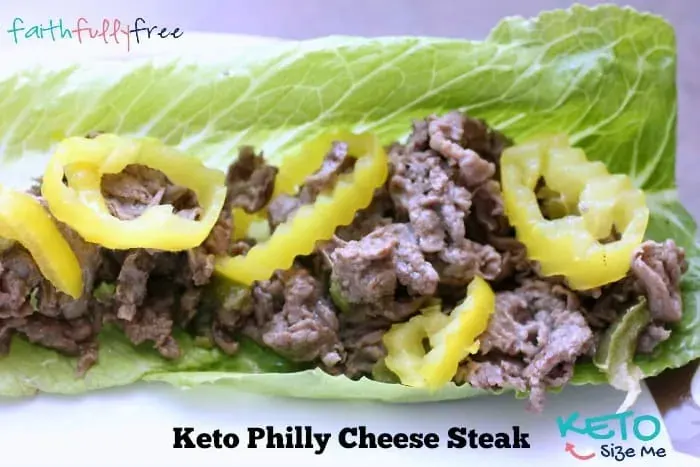 My husband and I love Philly Cheese Steak.
Thankfully, like many of our favorite meals, this one is ideal for anyone on a low-carb or keto diet!
I added banana peppers to mine but did not include that in the recipe because you can add anything you like, so I just shared the basic recipe.
My husband added additional mayo to his but said it would have been better mixed into the meat.
If you'd like to add extra mayo to yours, simply dish everyone else's then adds the mayo and cook for a few more seconds.
Starting out, you may find it hard to eat the fat you need.
All you have to do is add butter, oil, mayo, and avocado to your meals to bump up the fat.
If you're trying to plan lunches, I recommend prepping your meals in advance.
You can purchase meal prep containers that will make your life easier, and you can plan out your menu as far in advance as you like.
I like doing a few days at a time.
When I was doing keto by myself, it was easier to prep because I could make one recipe, and it would feed me for days, but now that my entire family is on keto, it doesn't work either.
They eat all my food 🙁
Even if you work inside the home as I do, you should still consider prepping your food.
Being prepared to succeed is the first step you take in reaching your goal.
One of my goals for 2017 is to help you plan your weekly menus, but until then, you need to stay on top of your meal plans and make sure you are doing everything you can to stay proactive.
The last thing you want to do is order takeout when the hanger hits!
Low-Carb Philly Cheese Steak Recipe:
This meal makes a great lunch, especially after church, because it's so easy to make.
It took less than 30 minutes to get this on the table!
Remember, the keto diet is a lifestyle plan you will stick with for the rest of your life; that's why it's important to try incorporating some of your old favorites into your menu plan.
You should never feel deprived just because you want to be healthy.
We will be sharing many recipes in the coming weeks to help you feel like you're still able to enjoy food without sacrificing your health.
I will also start a series about having a healthy relationship with food, so be sure to subscribe so you never miss a post!
Philly Cheese Steak Ingredients:
1 lb Beef Shaved Steak
2 Tbsp Mayo
1 Tbsp All Natural Dijon Mustard
4 slices Provolone Cheese
Romaine Lettuce
Banana Peppers (optional)
Keto Cheese Steak Directions:
Yield: 4 Servings
Keto Philly Cheese Steak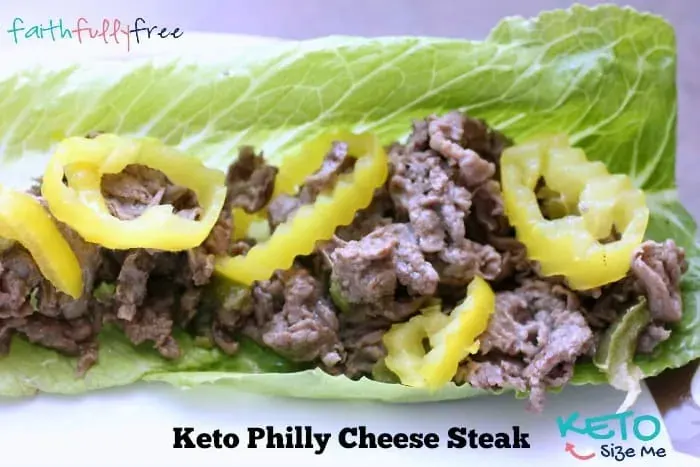 Low carb Philly cheesesteak will change your life. This is great to make at home and to order when you're out!
Ingredients
1 lb Beef Shaved Steak
2 Tbsp Mayo
1 Tbsp All Natural Dijon Mustard
4 slices Provolone Cheese
Romaine Lettuce
Banana Peppers (optional)
Instructions
Cook shaved beef on stove top in a large frying pan
Add in mayo and Dijon mustard mix well
Add provolone and stir in as it melts
Serve on Romaine Lettuce
Nutrition Information:
Yield:
4
Serving Size:
1
Amount Per Serving:
Calories:

666
Total Fat:

46g
Saturated Fat:

18g
Trans Fat:

0g
Unsaturated Fat:

22g
Cholesterol:

174mg
Sodium:

507mg
Net Carbohydrates:

2g
Fiber:

5g
Protein:

54g
Keto Philly Cheese Steak: Nutrition
This is for 1 serving (1 cup)
Calories: 213
Total Fat: 15g
Cholesterol: 58mg
Sodium: 257mg
Potassium: 17mg
Carbohydrates: 0g
Dietary Fiber 0g
Sugars: 0g (all from natural sources)
Protein: 18g