It's time for my Keto Diet Week 2 results! Are you ready for this?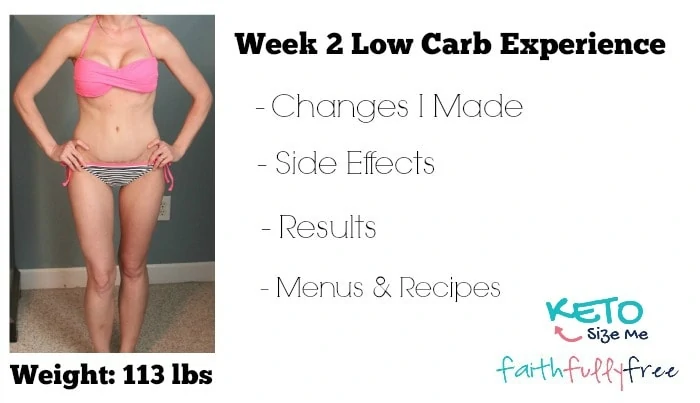 Keto Diet Week 2:
When I began my week 2 low-carb experience, I was a little better prepared.
I knew my keto calculations; I had My Fitness Pal ready to go, and I was in the zone.
The weekend before, I had experienced eating out while watching my carb intake and it was a pretty good experience.
I ate steak and veggies from Applebee's, and I ate at Moe's Southwest Grill twice.
This was important to me because during week two I took a three-day trip to Washington DC with my son, and I knew I would be eating out every day.
I felt prepared, inspired, and determined.
Keto Diet Week 2: Keto On The Road
Up until this point, I had noticed very few side effects, but I was curious to see what walking around all day (one day totaling 9 miles) would do to my hunger levels.
Surprisingly I was never really that hungry, and I had no cravings.
I could walk into a restaurant serving goodies I would have normally indulged in, and I felt nothing. My water intake also increased during week two.
The only thing I did that went against my diet was used Splenda in my coffee each morning. Ugh! It was gross, but I made it through.
I will admit that I was dead tired by the end of each day, but who wouldn't be?
I was chasing three 5th-grade boys and walking everywhere.
Choosing foods at the restaurants wasn't hard, but calculating what I was eating in My Fitness Pal proved to be a bit of a challenge.
I will share my daily menus here, but they may be off a little.
Note: During week 2 I still don't believe I had entered ketosis. If I did, it was just barely.
There was one day when I noticed the taste of blood in my mouth and had a few side effects listed above, but it hit me a little harder in week 3.
So remember, these are my personal goals, as calculated by me:
Carbs: 20g per day (7%)
Fat: 97g per day (74%)
Protein: 56g per day (19%)
I don't worry about any other numbers, and I don't drink any sodas (just water and coffee) or eat any processed foods (other than a few types of meat).
I try to come as close to these numbers as possible, although as you'll see, it's not easy. Sometimes I have to make myself eat because I just don't feel hungry.
Note: Don't forget when looking at carbs that you need to subtract the fiber to get your net carb count.
Keto Diet Week 2: Menus
My week starts on Monday, so I also weigh in every Monday.
On Monday I started my week at 116.2.
Monday:
Carbs: 17g / Fat: 75g / Protein: 65g
Tuesday:
Carbs: 17g / Fat: 76g / Protein: 50g
Wednesday:
Carbs: 18g / Fat: 70g / Protein: 92g
Thursday:
Carbs: 8g / Fat: 76g / Protein: 90g
Friday:
Carbs: 11g / Fat: 80g / Protein: 58g
Saturday:
Carbs: 8g / Fat: 52g / Protein: 33g
Sunday:
Carbs: 6g / Fat: 55g / Protein: 48g
As you can see, hitting these numbers is very hard for me, but I am getting better at it.
You'll notice some bigger changes in my Week 3 Low Carb Experience post.
Keto Diet Week 2: Results
So let's sum this week up with stats!
Starting Weight: 116.2 — Ending Weight: 113 — Weight Lost: 3.2 lbs
Starting Body Fat: 20% — Ending Body Fat: 18% — Body Fat Lost: 2%
Measurements: (For time's sake I will only share losses, anything that stayed the same will be shared when it changes)
Body Part: Starting /Ending / Loss
Waist: 25.5 / 25 / 1/2 inch
Hips: 34.5 / 33.5 / 1 inch
Arms: 10 / 9.5 / 1/2 inch
Thigh: 20 / 19 / 1 inch
Summary: After 2 weeks of changing my diet I lost 3.2 lbs, 2% body fat, and 3 inches!
Not bad my friends! Not bad at all! This is all without exercise (other than the walking I did).
I plan to add exercise starting in week 5. I wanted to wait one month to see what just the diet alone could do.
My goals will also change once I add exercise in, so watch for that.
* Note: The picture at the top of this post is after week 2. It was taken on Monday starting week 3!
Next week I will be able to show a before and after with the same suit so you can see any differences.
My hope for week 3 is that I will start shedding some of that thigh fat!
You can read my weekly updates to learn more about the changes I've made and the results I've experienced.
Weekly Experiences:
Start Here: Deciding To Live The Ketogenic Lifestyle (Starting Weight 121)
Check It Out: Keto Diet Week 1 4.8lbs Lost (mostly water weight) – End Weight 116.2
Finally, Read This: Keto Diet Week 3 2.6lbs Lost (Fat) – End Weight 110.4 & 4 inches down
~ This post contains affiliate links to help you find the products we use.