Keto Banana Walnut Bread may seem like an oxymoron, but I promise, this loaf will not end the world any time soon.
I don't usually share recipes that are on the higher end of low carb, but this keto banana walnut bread is worth every carb and perfect for anyone that needs to add extra potassium to their keto diet.
Before starting the keto lifestyle, traditional banana bread from Starbucks was my favorite breakfast treat. That paired with a frappuccino (yikes).
If you're not about that banana bread life, try this super low-carb keto zucchini nut bread!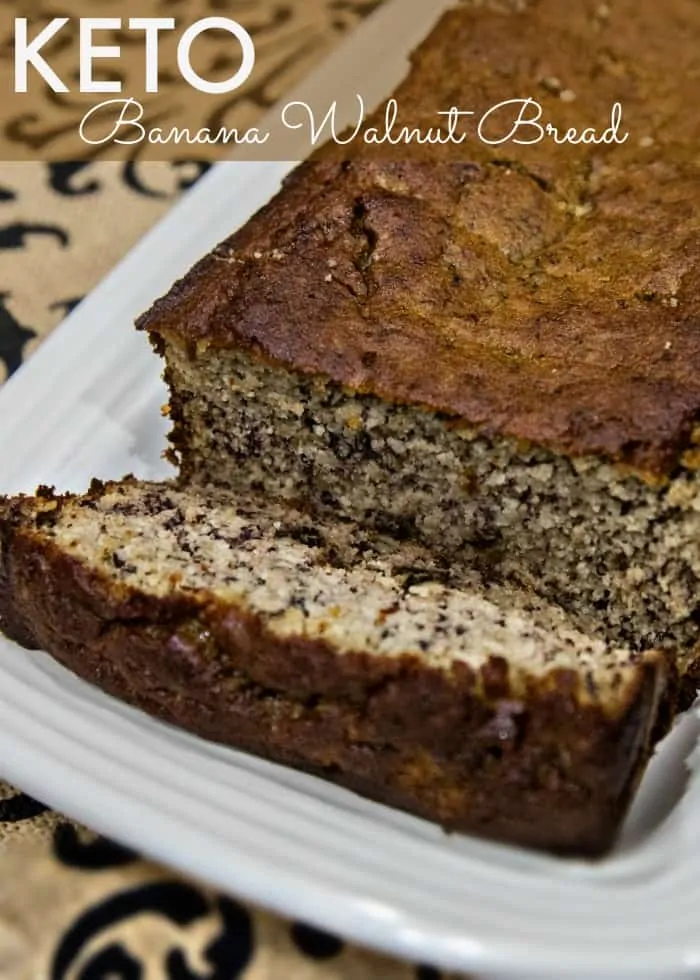 Having reached my goal weight, I allowed myself to enjoy eating this bread.
I was happy that I didn't get the post-banana cravings I normally experienced pre-keto.
Before starting keto, I was the type of person that would eat a banana or a bowl of cereal and feel hungry all day long afterward, so up until this point, I had avoided bananas like the plague.
Thankfully, I think I am finally at a point where I can add certain natural foods back into my diet without adverse effects.
I still keep my carbs below 50 grams daily (usually 20).
Keto Banana Walnut Bread Recipe:
The problem with diets like the low-carb and ketogenic diets is that you can become so focused on what you "can't" have that you forget all whole foods make a great and balanced diet.
It's easy to get into ruts where you eat the same things repeatedly. You don't have to put much thought into your meal plan, which seems to work well. The problem with eating the same foods is that you will lack the proper nutrients other fresh fruits and veggies offer.

Keto Banana Walnut Bread Recipe: Ingredients
3 Real Bananas (Medium Size)
2 Cups Almond Flour
3 Large Eggs
1/2 Cup Walnuts
1/4 Cup Olive Oil (coconut oil or butter can also be used)
1 Tsp Baking Soda
Pinch of salt
Coconut Oil
Low-Carb Banana Bread Recipe: Directions
Preheat oven to 350
Grease loaf pan using coconut oil
Cut up each medium banana, smash, and set aside
Add all dry ingredients to a large mixing bowl
Now add your wet ingredients and mix on high until well combined.
Pour mixture into a greased (I use coconut oil) 9×5 loaf pan and bake for 50-60 minutes.
Place bread on a wire cooling rack, then transfer to parchment paper to slice.
Store remaining keto banana nut bread in an airtight container at room temperature (3-5 days) or freeze in Ziploc freezer bags for up to three months.

Best Keto Banana Bread Tips & Tricks:
You can change up this almond flour banana bread recipe in many ways. Here are a few things my readers have mentioned trying:
Add sugar-free chocolate chips
Add 1/2 tsp vanilla extract
Replace chopped walnuts with chopped pecans
Use both walnuts and pecans
Drizzle with sugar-free maple syrup
Top with cream cheese or keto cream cheese frosting (see recipe below)
Use overripe bananas for that delicious banana flavor (not my personal opinion, but I'm weird)
Add keto sweeteners like monk fruit, Stevia, or Ethrytol for sweeter banana bread. I found this recipe to be perfectly sweet as is.
Keto Cream Cheese Frosting Recipe:
2 oz. cream cheese softened
2 Tbsp. Swerve confectioners sugar substitute
3 Tbsp. heavy cream
1/2 tsp. vanilla extract
When ready to make the icing, mix cream cheese, Swerve, heavy whipping cream, and vanilla extract together and blend on high until you get a smooth and creamy consistency.
Add to the top of your gluten free banana bread!
Keto Banana Bread Recipe: Nutrition
This is for one serving (makes 10 slices)
Calories: 269
Total Fat: 22g
Cholesterol: 63mg
Sodium: 147mg
Potassium: 46mg
Carbohydrates: 11g net carbs
Dietary Fiber 4g
Sugars: 7g
Protein: 8g
Need For Potassium:
My family has been living the keto lifestyle for just over a month now, and my youngest daughter started having tummy troubles about three weeks in.
After lots of research, I realized that she most likely needed additional potassium and magnesium, so this recipe was an easy way to give her potassium with more fiber than a banana alone.
While I don't think children should hold to as strict a diet as adults, I also know that giving my children straight bananas leads to increased hunger only minutes after eating.
We allow our children all fruits, but I try to include them in foods I cook as often as possible. We used to omit pineapples, but then I realized a life without pineapples should be a crime!
Are Bananas Keto?
Now we come to my least favorite part of every post that contains a "controversial keto food." Are bananas keto? Let's take a look at the banana, shall we?
Banana Nutrition Facts:
One medium banana has the following:
Calories: 110
Fat: 0g
Protein: 1g
Carbohydrates: 28 grams
Fiber: 3 grams
Net Carbs: 25 grams
Potassium: 450mg

Based on these nutritional details, we can see that bananas are automatically off the list for strict keto dieters. Why? Super strict keto keeps their grams of carbs at 20 or less. Since a banana has 25 grams of net carbs, this one food would blow the entire day.
But guess what?!?! If you are on strict keto, you can't eat a whole banana, but you could eat a slice of this keto-friendly banana bread because it's only 11 net carbs! Unless, of course, you are the most strict dieter and only count whole carbs, in which case, I can not help you!
Now, if you are on lazy keto or a more sustainable version of keto, you probably have a carb allowance of 50-100 grams daily. If that's the case, this banana would be a welcome addition to our version of the keto diet.
Banana Bread Keto Style Printable Recipe Card
Yield: 12 slices
Keto Banana Walnut Bread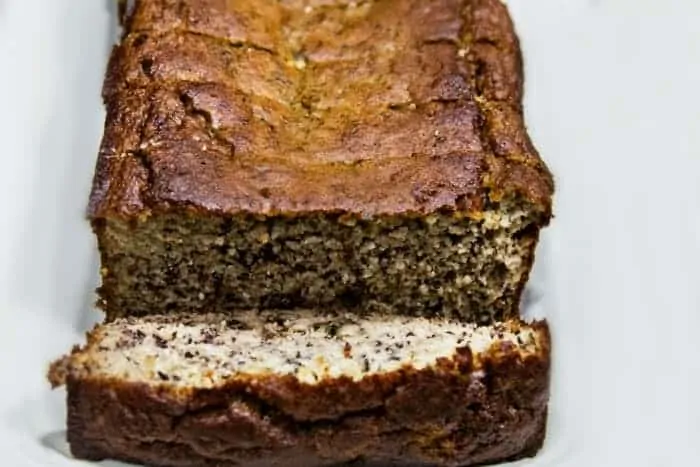 Quick and easy keto banana walnut bread that kids and adults will devour.
Total Time
1 hour
10 minutes
Ingredients
3 Medium Bananas
2 Cups Almond Flour
3 Large Eggs
1/2 Cup Walnuts
1/4 Cup Olive Oil
1 Tsp Baking Soda
Instructions
Preheat oven to 350
Grease loaf pan using coconut oil
Cut up bananas
Add all ingredients in a mixing bowl and mix on high until well combined
Pour mix into loaf pan and bake for 50-60 minutes
Nutrition Information:
Yield:
12
Serving Size:
1
Amount Per Serving:
Calories:

220
Total Fat:

18g
Saturated Fat:

2g
Trans Fat:

0g
Unsaturated Fat:

15g
Cholesterol:

47mg
Sodium:

123mg
Net Carbohydrates:

3g
Fiber:

3g
Protein:

7g
* We strive to make all recipes according to our dietary standards. Our recipes must meet the following criteria: Low Carb, High Fat, Moderate Protein, Sugar-Free (we only allow natural fruit, veggie, and dairy sugars in our diet, and very little stevia), and Gluten-Free.
~ This post contains affiliate links to help you find the products we use.