Keto Baked Spaghetti is a common request, and you'll soon know why!
Go ahead and add this one to your keto meal plan for the week!
Also, try this with our new keto cheesy garlic bread recipe for a complete meal.
I'll be honest; I am not a big fan of spaghetti. Pasta has never been my thing.
I have, however, been trying to find ways to make recipes similar to the ones my kids have always loved, so I knew I would have to figure out a low-carb keto baked spaghetti recipe that they would love.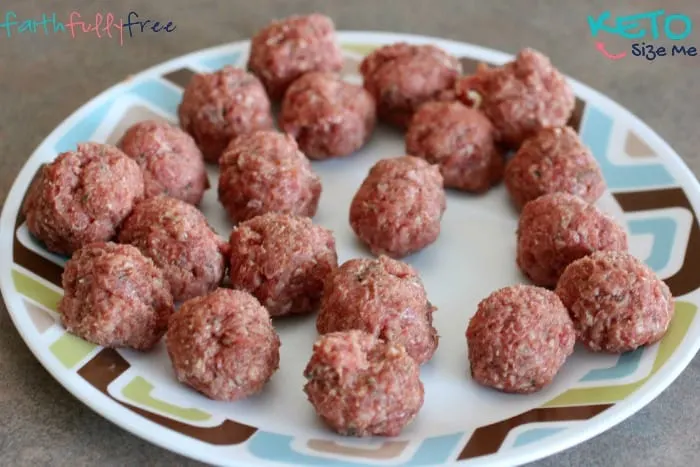 Before I made this, my kids had never eaten spaghetti squash, and I think I had only eaten it once before.
We were unsure what to expect, but we were all very impressed (yes, even me, the anti-spaghetti mom).
You could probably cut the sugar on this by making pasta sauce, but I don't have time for that.
We have been so busy lately that I had to settle for Wild Oats Organic Tomato and Basil pasta sauce (that variety has the fewest carbs, so be sure to look for that one).
This is a great way to trick kids and dads into eating veggies when they honestly believe they hate them.
My husband grew up thinking the only veggies were corn and potatoes, so he takes some serious convincing.
Fortunately for me, a co-worker told him the day before I made this how awesome spaghetti squash is, so he wanted to try it.
Low-Carb Keto Baked Spaghetti Recipe:
Yield: 10
Keto Baked Spaghetti
Delicious low carb baked spaghetti using squash as a noodle substitute.
Ingredients
1 lb Ground Beef (cooked & drained)
4 cups Spaghetti Squash (cooked)
1 container Wild Oats Organic Tomato Basil Pasta Sauce
1 1/2 cups Frigo Shredded Parmesan Cheese
3 1/2 cups Low Moisture Part-skim Mozzarella Cheese
1 tsp Wild Oats Organic Chili powder
1/2 tsp Oregano
2 Garlic Cloves
1 Large Egg
Instructions
Preheat the oven to 350
Slice spaghetti squash in half and cook in the microwave for 5-10 minutes (until you can easily scrape everything out.
After you scrape the insides out, remove seeds and cook for another 5-10 minutes
In a bowl combine egg, oregano, chili powder, and garlic. Whisk until well blended.
Place ground beef in the bowl and fold in the egg mixture
Roll ground beef into meatballs and cook in a large frying pan for 3-5 minutes per side
Place pasta sauce in a small pot and heat
Spray a 9 x 13 baking pan with Coconut Oil and coat well
Spread spaghetti squash on the bottom of the pan then spread meatballs out evenly (I made about 20 small meatballs).
Cover with Parmesan cheese then heated pasta sauce and top with mozzarella cheese
Bake for 30 minutes
Nutrition Information:
Yield:
10
Serving Size:
1
Amount Per Serving:
Calories:

362
Total Fat:

22g
Saturated Fat:

11g
Trans Fat:

1g
Unsaturated Fat:

9g
Cholesterol:

98mg
Sodium:

633mg
Net Carbohydrates:

6g
Fiber:

2g
Protein:

30g
Nutrition Information for Low-Carb Baked Spaghetti :
This is for 1 serving (about 1 cup)
Calories: 316
Total Fat: 20g
Cholesterol: 101mg
Sodium: 850mg
Potassium: 87mg
Carbohydrates: 10g Dietary Fiber = 3g Net Carbs= 7g
Dietary Fiber 3g
Sugars: 5g (all from natural sources)
Protein: 27g