Easy keto pumpkin bread is all the rage around here.
While we are usually a zucchini nut-bread family, we must switch it up in the fall!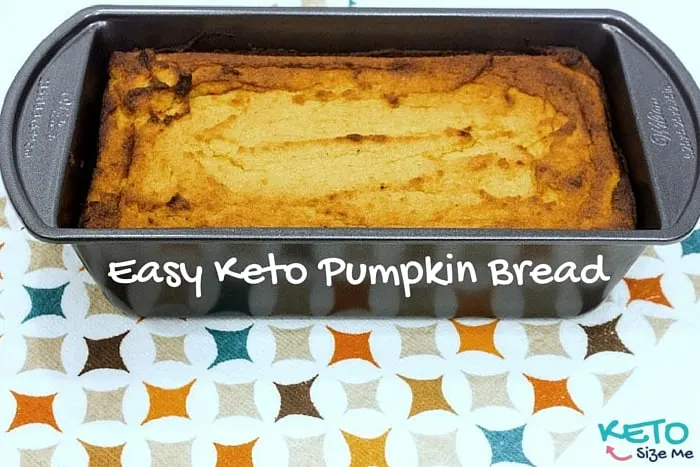 When I first started the keto diet, I ate no baked goods. My breakfasts were pretty hard-core, with only meats, eggs, and maybe some veggies.
Once my husband started doing keto with me last month, I knew that wouldn't fly with him.
He was used to eating Hot Pockets, Toasters Strudels, Doughnuts, and anything loaded with carbs and slapped with a breakfast label.
Even though I saw everyone else using coconut flour, almond flour, and sugar alcohols, I felt it had to be too good to be true.
Thankfully, I was wrong.
I started making breakfasts for my husband that included many of the ingredients listed above, and I just knew I would be hungry throughout the day or craving more and more of these foods, but I didn't.
Now, I'm a believer, and I have started re-creating all of our old favorites using different ingredients.
Today I made pumpkin bread for the first time since starting the keto diet, and it was both an easy experience and a hilarious one.
The life of a food blogger seems so great until you're up at 4:30 am trying to make breakfast and lunch for your husband while hoping you can squeeze time in to get some great photos for your blog.
This morning I cooked fried chicken with bacon and this pumpkin bread.
What happened next was both hilarious and quite a disaster.
After baking my bread for 60 minutes, I tested it with a toothpick, and it seemed to be done.
I pulled it out and let it cool while I took pictures of my keto-fried chicken.
I decided to go ahead and snap some photos of the bread before I pulled it out of the pan (I don't care for pan pics) and then decided to go ahead and plate it so I could slice it and showcase it in all its glory.
Instead of using a plate, I flipped it onto a cooling rack.
I noticed that it seemed heavier than usual, but I figured it was the difference in the flours.
Then it happened.
It fell out of the pan with force and was NOT fully cooked.
Surprisingly the part that wasn't cooked through held together pretty well, but its weight sent the top of the bread right through the cooling rack.
Oh man, what a mess. Since I like to keep it real, I'll show you what it looks like at the bottom of this post! 🙂
I think ten more minutes would have given me a beautiful pumpkin bread.
So there's your lesson for today, check the bottom of the bread, you may even have to slice it in the pan to check it, but it needs to be done!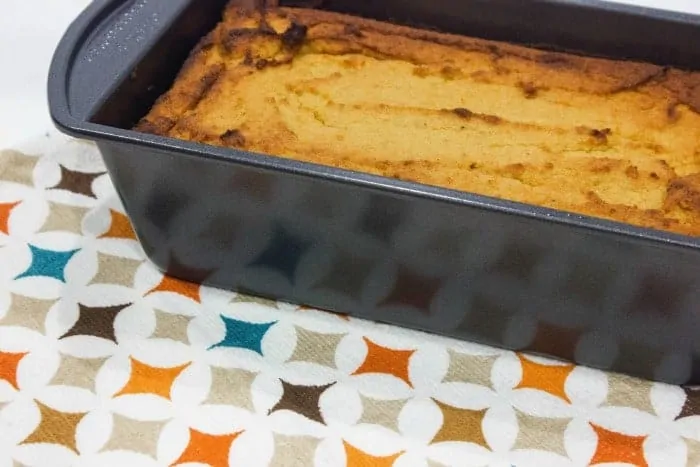 Easy Keto Pumpkin Bread:
Yield: 12 slices
Easy Keto Pumpkin Bread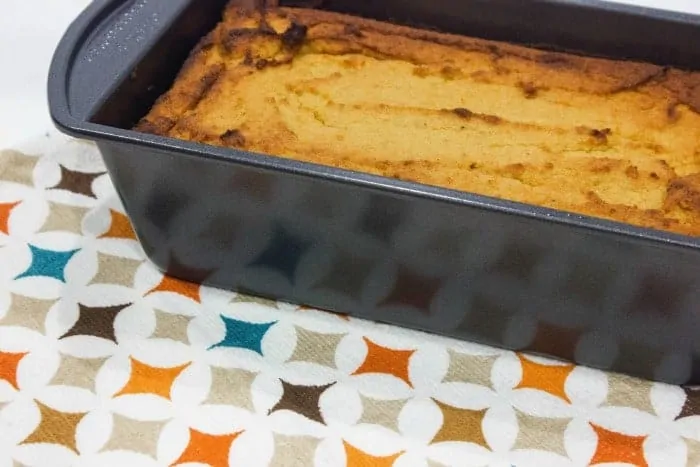 This fast and easy pumpkin bread recipe will be a fall favorite. Moist bread that makes breakfast healthy again. This sugar-free and gluten-free alternative with taste better than the original. Simply place in your mixing bowl and let it go until it's a light and fluffy consistency. Pumpkin bread from scratch has never been easier.
Cook Time
1 hour
30 minutes
Total Time
1 hour
40 minutes
Ingredients
1 Can Libby's Canned Pumpkin
1 Cup Bob's Almond Meal/flour
1/2 Cup Bob's Coconut Flour
4 Large Eggs
1/2 Cup Heavy Cream
1 Stick of Butter (melted)
1 1/2 tsp Vanilla
2 tsp Pumpkin Pie Spice
1/2 tsp Baking Powder
1/2 Cup Erythritol (or Stevia)
Instructions
Pre-heat oven to 350
Place all ingredients in a mixing bowl and mix on high until light and fluffy
Grease a loaf pan with coconut oil
Pour bread mix into loaf pan and bake for 70-90 minutes
Nutrition Information:
Yield:
12
Serving Size:
1
Amount Per Serving:
Calories:

260
Total Fat:

19g
Saturated Fat:

9g
Trans Fat:

0g
Unsaturated Fat:

9g
Cholesterol:

93mg
Sodium:

118mg
Carbohydrates:

6g
Net Carbohydrates:

3g
Fiber:

3g
Sugar:

3g
Protein:

7g
Nutrition Information for Easy Keto Pumpkin Bread:
This is for 1 slice (Makes 8 Slices)
Calories: 311
Total Fat: 26g
Cholesterol: 138mg
Sodium: 150mg
Potassium: 4mg
Carbohydrates: 11g – 6g Fiber = 5 Net Carbs
Dietary Fiber 6g
Sugars: 3g (natural sources)
Protein: 8g
* We strive to make all of our recipes according to our dietary standards. Our recipes have to meet the following criteria: Low Carb, High Fat, Moderate Protein, Sugar-Free (we only allow natural fruit, veggie, and dairy sugars in our diet, and very little stevia in the raw), and Gluten-Free. You can learn more about how we eat, and how to figure out the macronutrient amounts you need daily.
Here's the #BakingFAIL you've all been waiting for:
At least I'm not alone! Check out these funny baking fails for a laugh today.
Looking for more recipes to try? These are reader favorites: